1000 Mariner Dr, Key Biscayne, FL 33149, USA

6,775,000 USD

6

7

Single Family
SCHEDULE TOUR
SCHEDULE TOUR
This 10-year-old smart house was designed by an award-winning architect to evoke a serene spa like atmosphere and showcase its panoramic water vistas. The high ceilings and open floor plan are perfect for entertaining and the display of fine art in its 5,000 sq. ft. of luxury living space. That much house is rare in a single-story residence. The home has been tastefully done with the finest high-end luxury finishes, systems and appliances. The home is situated on a quiet and prestigious small island cul-de-sac street of only 18 all waterfront homes and is one of only about 200 waterfront homes on the unique island municipality of Key Biscayne. Key Biscayne has been named the best community in which to live by South Florida Business Journal in 2019. The Village has the most highly educated populace and 5th lowest crime rate of any municipality in Florida. Key Biscayne affords the opportunity to enjoy both disconnected island life with top beaches and unparalleled amenities for a small town but is only 12 minutes from Downtown Miami which affords all the benefits provided by being in major metropolitan area. It truly represents the best of both worlds.
Property Information
| | |
| --- | --- |
| Year Built | 2009 |
| Price | $6,775,000 |
| Waterfront | Yes |
| Total Stories | 1 |
| Living Area | 5,000 sq.ft. |
| Bedrooms | 6 |
| Full Bathrooms | 5 |
| Half Bathrooms | 2 |
| Virtual Tour | |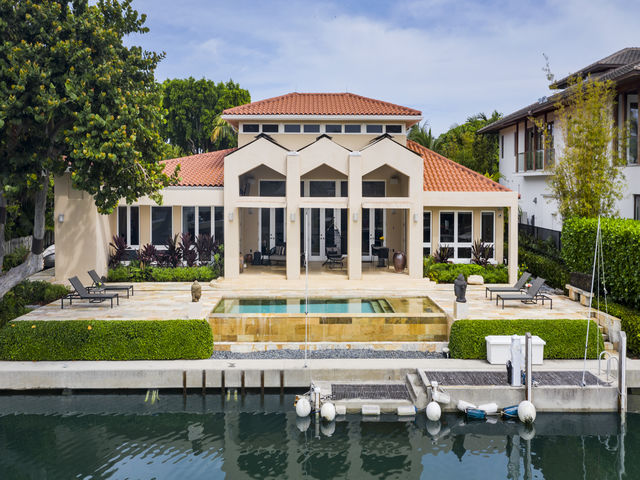 1000 MARINER DRIVE,KEY BISCAYNE, FL. FINE ULTRAFINISHES ANDOTHERUNIQUE FEATURES
KITCHEN
Spacious kitchen lined with numerous teak cabinets of all types including a closet-link pantry with deep shelves plus a rollout pantry. There is both a table for in-kitchen meals plus countertop eating bar withs tools.The luxury applicant pack age consists of:
GAGGGENAU COOKING KITCHEN APPLIANCED

– These highest quality appliances are made by this German manufacturer which are

Combination steamer/ convection oven which is directly plumbed and has a built-in drain. This is unique and the only product of its kind. The humidity of the oven can be adjusted for different cooking techniques.
Standard matching oven with a matching glass and aluminum front.
The range has 4 burners plus a flexible center space with a combination indoor grill with lava rocks and girdle which are interchangeable.
The industry leadingGaggenau hood is the most efficient and quiet. The hood has the Coanda affect which captures air and keeps the air stream within the hood area so that it can be efficiently extracted and minimizes escaping air.

There is also

Microwave with a size and appearance to match the ovens.
Sub-Zero refrigerator with a built-in water & ice dispenser.
Sub-Zero wine cooler and adjoining bottle niches.
There is a built in hidden warming drawer in the island.
The best available soft touch hardware.
A large second sink in the central island along with recycle bins.
MASTER BEDROOM SUIT
The spacious master suite is entered through an art alcove as a transition from the living area.This extra space also provides extra privacy and a buffer from the rest of the house.
The bedroom includes a sitting room near the windows and there is a large beautiful Venetian Chandelier in the center of the room plus many LED lights with convenient controls accessible from several areas including both sides of the bed.
HER SPACE
Other adjunct spaces which are parts of the master suite are:
HER CLOSET

– This is a separate 13'x18' windowless room lined with several types of built-ins containing closets and drawers plus a3-way mirror fronting one of then 2 areas for her shoe collection. There is a 6'x3' island in the center of the closet lined with storage and drawers some of which are felt lined. The room is well lit. All the cabinet pulls plus door handles are Swarovski crystal.

HER DRESSING ROOM

– This elegant and highly decorative area features several types of glass fronted cabinets, display areas and classically arched room separators. Swarovski crystal drawer pulls the makeup area has a variety of different types of lights. There are finely made mirrors and elegant display cabinets which are truly fine furniture. The large dressing Mable dressing table faces an equally large mirror illuminated with 3 types of lights plus a 9' high window in the rear.

HER BATHROOM WET AREA

– Adjoining the dressing-room is a very spacious wet area that features Phylrich brand gold plated bathroom fixtures with cut crystal knobs. The draw pulls are of course also Swarovski crystal as are the door knobs. There is a concealed refrigerator built into the cabinets,the sink is hand painted and centered for ample counter space.

COMMON HER AREA FEATURES

– There are marble floors and walls with mother of pearl decorative inlays. The bathroom/dressing room are as have 2 large crystal chandeliers plus 1 small one and 2 crystal wall sconces. In all the entire area is elegantly and tastefully appointed to invoke a luxury feel.
HIS SPACE
HIS MASTER BATHROOM
– This artfully created bathroom features:
A birds-eye maple cantilevered cabinet is topped with composite counter top made of seashells and pebbles encased in a resin.
The walls are completely covered with an unusual and scarce birds-eye slate that is both beautiful and unique. There are 3 types of common colored glass tile inserts including a fish scale design.
The large sink is transparent Acqua ware glass to provide a visual effect of being underwater when the water runs over the shell and pebble counter top.
All of the plumbing hardware is a contemporary design by the Porsche design team and are made in Italy. There are 4 types of spouts and operating controls (standard, rain, body and hand held).
There are 3 Robern medicine cabinets 2 of which have internally integrated electric plugs.
HOUSE WIDE SPECIAL FEATURES
LUALDI ITALIAN MADE INTERIOR DOORS
– The interior doors are all Lualdi doors made inItaly with Valle & Valle handles. The 2 types of doors are both frosted glass and lacquer finishes. Having the lacquer doors, the same color of the wall paint adds to the contemporary sleek feel of the house. The lacquer doors have a carbon fiber honeycomb interior that prevent them from warping and make them extremely strong and light. The glass doors are made of a high-quality aluminum alloy and are also very strong and light. The doors rest on simply and functional European pivots making them easy to operate.
ENERGY EFFICENCY
– The house has been insulated more than required. Although it is not LEEDS certified the house is very efficient and the architect is LEEDS certified. The attich as been insulated as well as the walls. There is a double attic which adds to the insulation, strength and security of the structure containing additional insulation.
LAUNDRY ROOM
– With elegant cabinets, this room has the following unique and attractive features:
Whirlpool Automatic Hand wash Sink which gently cleans delicate garments without having to touch them and without the need to subject them to an ordinary laundry machine.
A combination drip sink and mop sink.
NICHES & DISPLAYS
– There are lighted areas to display collectables and art pieces. The niches and recessed areas are integrated into the lighting system.
ART HOUSE
– There is ample wall space for the display of art. The 24-foot-high living room has several areas in which electric plugs for art lights have been installed. The light and open design of the house is perfect for the display of paintings and sculptures. The Chinese Quartz pool deck by the canal has pedestals with ancient reliefs, busts and sculptures.
MULTI-ZONE ULTAEFFICENT 19 SEER TEMPERATURE CONTOL SYSTEM
– The house is served by the latest and best Trane system which has multiple dampers. This enables individual rooms or room groups (in our case) to be operated independently as 7 separate zones with only 2 separate outside units each with 3 automated damper systems. This system is also extremely efficient and results in surprisingly low electric bills. The South side has a recently upgraded Smart control system that communicates with phones and handheld devices via Wi-Fi plus supplies weather and other pertinent information.
LIGHTING SYSTEM AND AUTOMATION WIRING
– The entire house the benefit of having installed numerous bundles of wires including CAT 5, Fiber Optic and 3 other types of phone and communications wires. It has touch screens installed and wiring for more plus sound control and lighting control switches in every room. The low voltage lights that can bead justed so that the beam can point in any direction and any switch can be programed toper form multiple functions. Creston is the world leader in automation.
SOPHISTICATED SECURITY SYSTEM
– There are 12 cameras in place and around the house with some concealed in ordinary places and devices. These can be accessed from any where in the world and are backed up with more extraordinary sophisticated features.
JERUSELUM STONE FLOORS
– With a subtle golden color tone, the floor throughout the house is of this iconic sandstone. There is a complex complementary mosaic lining the entire 30-foot-long entrance gallery.
POOL & DECK
– The attractive Quartz surface is carried into the pool covering the sides and steps giving the effect of a grotto. The bottom of the pool is covered in glass tiles which enables the bottom to shine in the sunlight and has an appealing "mother-of-pearl" effect.The pool has an infinity pool which provides a "disappearing edge" effect with the adjoining canal. There is a spa feature with jets above a seat at the opposite end of the pool from the "beach" which has very low water for sunbathing and the safety of small children. The Jandy pool equipment can be controlled multiple ways including and through the Crestron system.
VERY SUBSTANTIALLY CONSTRUCTED
ALL CONCRETE WITH UP TO DATE HURRICANE RESISTANT FEASTURES
– In keeping with Miami-Dade building code requirements which are the toughest ion the world, the house has been built to resist the strongest of winds and wind-blown objects. The concrete construction with steel reinforcing bars has been designed to provide a maximum of resistance to incidents caused by hurricane force winds.
TOP OF THE LINE IMPACT WINDOWS
– The windows are manufactured by CGI which makes the highest quality & strongest impact windows. The windows have the highest impact rating and have a UV repellant tint. They are manufactured in South Florida for local conditions.
ORGANICALLY CONSTRUCTED POOL & DECK
– So that the pool and deck were as strong a possible they were both incorporated into the overall slab of the house. The pool it self is contained between the tie beams of the deck.
BUILTINS
– All the cabinetry throughout the house are all made of durable plywood.
NEW SEA WALL & DOCK
– The sea wall and dock were replaced and reinforced. The 30-foot dock has a pedestal with electric, water, phone and cable. The dock has a step down near the center as not to interfere with the view from the house past infinity pool effect.
BOATING AND YAUGHTING ISSUES
DIRECT SHORT TRIP TO OPEN OCEAN
– It is only 2,000 feet from the dock of 1000 Mariner to Biscayne Bay with no bridges or impediments, then an additional1.5 miles to the beginning of the open Ocean at Cape Florida.
GOOD CANAL
– This 100 foot wide canals is up to 16 feet deep and is wide enough for 100+ foot vessels to maneuver and turn around. It has very good tidal flow and does not produce a smell as other sometimes have. There are Manatees, Dolphins, Turtles, Sharks, Rays and a variety of fish that inhabit the canal regularly.
SAFE HARBOR
– Because the anal behind the house is shelters by 2 separate land features, the canal is considered to be a "Safe Harbor".
LARGE SIZED VESSELS
– The property can accommodate up to an 87-foot-long yacht. There are several yachts of as large as109feet on the same canal.
1000 Mariner Drive, Key Biscayne, FL 33149
Located on the island paradise of Key Biscayne which is 75% park and is considered the most desirable place to live in Florida.
For Future Information Please Contact Us